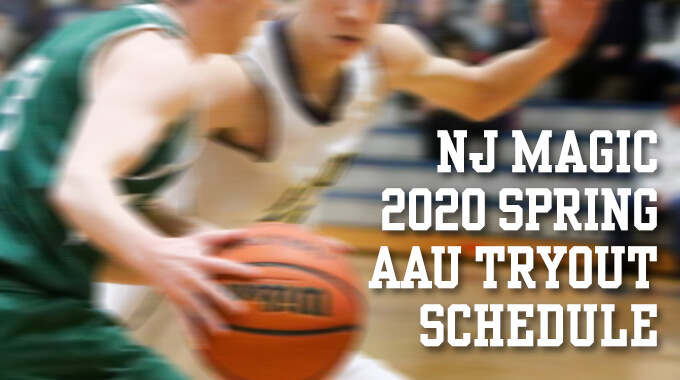 NJ Magic 2020 Spring AAU Tryout Schedule
Boys & Girls 3rd-8th grade
All tryouts will be at
Ridgedale Middle School Florham Park
Boys and Girls 4th-8th Grade (3rd Grade Welcome) AAU Teams.
Spring Season March-May (12 weeks).
Professional coaches
Proven player development program
Great facilities
2 weekly practices
14-18 games
9-10 players on each team
Spring fee $750 + $75 for uniform if needed
Boys and Girls Instructional Teams 3rd-4th Grade.
May-June (8 weeks).
Professional coaches
Proven Player development program
Great facilities
1 weekly practice
2 skill clinics
8-10 games
9-10 players on each team
Spring fee $525 + $25 for uniform top if needed
Boys 3rd, 4th, 5th grade: 6pm-7pm
Boys 6th, 7th, 8th grade: 7pm-8:15pm
Girls 3rd, 4th, 5th grade: 6pm-7pm
Girls 6th grade: 7pm-8pm
Girls 7th, 8th grade: 8pm-9:15pm
March 2, 2020-Make Up Tryouts
Boys 3rd, 4th, 5th grade: 5:30pm-6:30pm
Boys 6th, 7th, 8th grade: 6:30pm-7:30pm
Girls 3rd, 4th, 5th grade: 7:30pm-8:30pm
Girls 6th, 7th, 8th grade: 8:30pm-9:30pm
You must bring $20 tryout fee and completed registration/waiver form to tryout. You can attend both tryouts and pay only once.
Contact Brian with any questions at bmonaghan44@hotmail.com