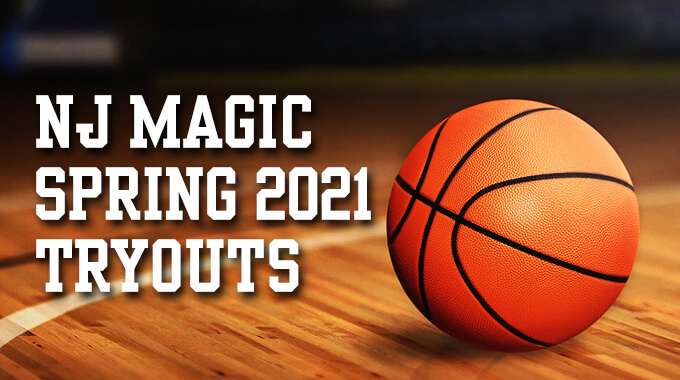 NJ Magic Spring 2021 Tryouts
Tryouts will be held at St. John the Baptist Ukrainian Church
60 N. Jefferson Rd, Whippany, NJ.
(The recreation center is in the back of the complex)
We will have 1 or 2 teams at each grade level this spring
Players only need to attend 1 tryout. A parent must check in their son or daughter and remain until the Covid screening is complete. Please, if your child is not feeling well keep them home and contact Brian.
Monday, March 8
​6pm-7pm  Girls 3rd, 4th and 5th grade
7pm-8pm  Girls 6th grade
8pm-9pm  Girls 7th and 8th grade
9pm-10pm Girls High School 9th-11th grade
Wednesday, March 10
​​6pm-7pm  Boys 3rd and 4th grade
​7pm-8pm  Boys 5th and 6th grade
Friday, March 12
6pm-7pm  Boys 7th and 8th grade
7pm-8pm  Boys HS 9th-11th​ grade
8pm-9pm  ​Girls HS 9th-11th grade
2nd round of tryouts:
Saturday March 13
9am-10am  Boys 3rd, 4th, 5th grade
10am-11am  Boys 6th, 7th, 8th grade
11am-12pm  Boys HS 9th-11th grade
12pm-1pm  Girls 3rd, 4th, 5th grade
1pm-2pm  Girls 6th, 7th, 8th grade
You must bring to tryout: $20 cash tryout fee and Registration/Waiver form downloaded from this website.
All new and returning players must attend at least 1 tryout and pay 1 tryout fee $20 cash.
Registration is done the night of tryouts but you must email Brian bmonaghan44@hotmail.com with player name and grade if you plan to attend so we can put you on the list.
Temperature checks will be done at the door. Masks must be worn during registration. We also ask that the players wear a mask during the 1 hour tryout.
We will email you to offer your child a spot on a team. This process takes a few days. Please write email address clearly on the form.
Magic spring 2021 AAU season will go from March to June.
Boys and Girls 3rd-11th grade
Spring fee $775 (Add $95 for new uniform)
3rd & 4th grade teams $600 ($695 with uniform)
Look out for details regarding our 6 week summer teams starting in June. Any questions contact Brian bmonaghan44@hotmail.com